Health and Social Affairs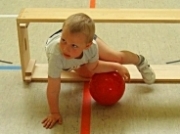 A professional network of social services
People with special needs can find a comprehensive range of services and assistance in East Thuringia. For children and young people, there is a well-developed network of childcare centres, after-school centres, child and youth welfare institutions, recreational centres and places for young people to meet up, even with overnight accommodation, in Gera, Jena and Altenburg.
Because of demographic development, today there are twice as many pensioners as children living in East Thuringia. For this reason, the varied choice of old people's clubs and meeting-places, nursing homes with day care and short-term places and homes suitable for the elderly is being extended. At the same time, there is an increasing number of services for the over-50s, such as schools for the elderly, singles clubs and knowledge pools, and a series of lectures at Jena University.
In the last few years in east Thuringia, a fully-developed network has emerged for disabled people, to promote, support and care for the disabled, stretching from early years support, day-care, assisted living and homes for the disabled, all the way to workshops. In Seelingstadt there is an interregional rehabilitation centre where people can retrain for work. The region also has a well-developed network of advice centres, social/psychiatric services and home care services.